What is the Micat Ferry?
The Micat ferry is your gateway to an unforgettable island adventure – Our terminal is just 40minutes from Brisbane CBD! Micat offers an enjoyable, scenic journey to Moreton.
Discover pristine beaches, crystal-clear waters, and an abundance of wildlife on Moreton Island. While you're en route, discover the amazing Micat menu and full bar!
There are three decks on Micat – the vehicle deck, saloon deck and upper deck.
Ferry Schedule
The Micat operates on a demand-based timetable, so during our busy periods we can run up to 5 times per day.
During the quiet times we generally don't run at all on a Wednesday, and only run once per day on other days except Friday and Sunday when we run twice.
As the Micat takes approximately 90 minutes to reach Moreton Island, our turnaround time is approximately four hours (including loading), so make sure you get in quick to get the best departure time from Brisbane and Moreton (no one wants the 10pm service off the island!).
View Ferry Schedule
The Micat departs from 14 Howard Smith Dr, Port Of Brisbane
Arrival & Loading
Our gates open 1 hour prior to departure in Brisbane, and the ferry typically arrives at Moreton Island approximately 90 minutes after departure.
It takes approximately 20 minutes to load a full boat and around 10 minutes to unload a full boat.
After the gate has opened:
Wagons – please proceed to Lane 1
Utes – please proceed to Lane 2
Towing a trailer – please proceed to Lane 3
Please remain in your vehicle, and a crew member will approach you to complete the check-in process.
Parking
We offer secure parking for $20 / day at our terminal (just line up in the parking lane), but unfortunately this is very limited and we often sell out on weekends.
We recommend car pooling or ride share. We have drop off zones just as you drive in the gate to make it easier to pick up and drop off passengers.
We also have limited street parking.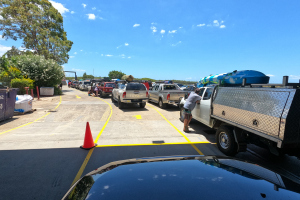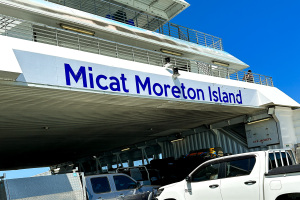 Booking Tips
Bookings are essential for both passengers and vehicles on the Micat.
If you're planning on taking your 4WD over for a weekend, or a long weekend during summer, we recommend booking at least four weeks in advance to get the best ferries.
We recommend booking your walk-on tickets a week prior to travel, and if you're travelling in school holidays, at least two weeks prior.
If you're looking to travel in the September, Easter or Christmas QLD school holidays, or Easter itself, we recommend booking six months in advance.
The most popular ferries generally book out around five months prior to departure for these periods.
If you are camping in peak times we recommend you check availability with National Parks before you book the ferry as campsites book out very quickly!
Food & Drinks
You are welcome to head upstairs once onboard and grab a famous smiley pie, sandwich, beer or coffee on the saloon deck.
Micat is a fully licenced vessel, the bar opens at 9am. Relax and enjoy the 90 minute ride to paradise.
Food Menu Booze Menu
Charter the Micat
Charter the Micat ferry – Your next event could be a little different!
What better place to hold your private event than on our luxury catamaran cruising along the Brisbane River or across the bay onboard the Micat to beautiful Moreton Island.
"We have been working with Micat for several years in the delivery of our Semi-Formal event. Their attention to detail, customer service and indeed their offering has been exceptional. They really do make life easy when it comes to events and we would recommend their services to anyone looking to run a dynamic function"
– Brisbane Boys College